OFFICIAL TROMADANCE POSTER, PROGRAM, AND AFTER-PARTY INFO!
Posted on July 20th, 2016
---
OFFICIAL TROMADANCE 2016 FILM SELECTIONS!
Posted on July 8th, 2016
---
TROMADANCE SUBMISSION DEADLINE EXTENDED!
Posted on April 25th, 2016
Big News! The 17th Annual Tromadance Film Festival will take place July 29th & 30th at The Paperbox Theatre in Brooklyn (17 Meadow St)!
AND the submission deadline has been extended to MAY 23rd!!! It's free to submit! Share your art with us! We welcome shorts and features! Submit here
---
THE 1st TROMANIMATION FILM FESTIVAL!
Posted on March 28th, 2016
The First TROMAnimation Film Festival is accepting submissions now through April 15, 2016! The festival will be held at Lucky 13 Saloon in Brooklyn NY at 644 Sackett Street on April 30th from 6-11PM. All genres of animation are welcome to submit, including hand-drawn, digital, 3-D and experimental.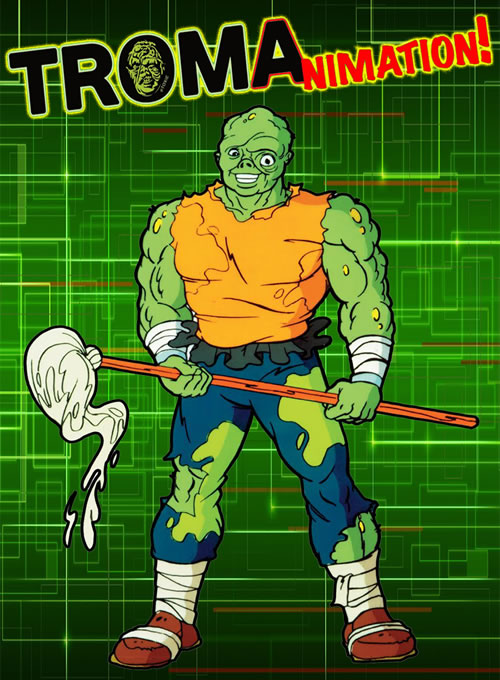 ---
SUBMISSIONS ARE OPEN FOR TROMADANCE 2016!
Posted on December 16, 2015
Free submission is now open for The 17th Annual Tromadance Film Festival! Entry deadline is April 30th, 2016. We look forward to viewing your art!
---
Get Ready to Submit for the 17th Annual Tromadance!
Posted on November 2, 2015
We will be accepting submissions for the 17th Annual Tromadance Film Festival starting on Monday, December 14th, 2015. The deadline will be April 30th, 2016. As always, unlike Sundance or any of the other supposedly "independent" film festivals, submitting to Tromadance is totally FREE. We cannot wait to see what you all have come up with!
---
16th Annual TromaDance Film Festival Highlights
Posted on September 15, 2015
---
How 'South Park' influenced TromaDance Film Festival
Posted on August 14, 2015
(click here for the original article from Page Six in the NY Post!)
The creation myth of the TromaDance Film Festival in Brooklyn this weekend is that it was started in 1999, when "South Park" creators Trey Parker and Matt Stone were treated rudely at Sundance.
This 16th annual edition features: "Return to Nuke 'Em High: Volume 2," about teenagers fighting mutant bullies; and "Clinger," starring scream-queen Debbie Rochon.
Troma chief Lloyd Kaufman, best known for creating "The Toxic Avenger," says "Clinger" is "a Hitchcockian and Raimi-ish combination of hilarity and horror all rolled up into the most entertaining cinematic enchilada you will see this year."
---
Pictures from the 2015 TromaDance Festival!
Posted on August 13, 2015
---